Crush your New year's Fitness goals with your new FREE Printable Fitness Tracker. This printable fitness tracker is a great way to keep track of your weekly exercise goals (or monthly goals) and your water intake!
​
​
Do you struggle with or find it difficult to remain consistent when it comes to building a new habit or reaching your fitness goals, exercise goals or any other specific goals?
​
​
If yes, then you'll find that a printable tracker can be a great resource when it comes to helping you reach healthy habits or, in this case, your desired fitness level.
​
This colorful and, I'm hoping, happy planner is the perfect companion for your fitness journey!
​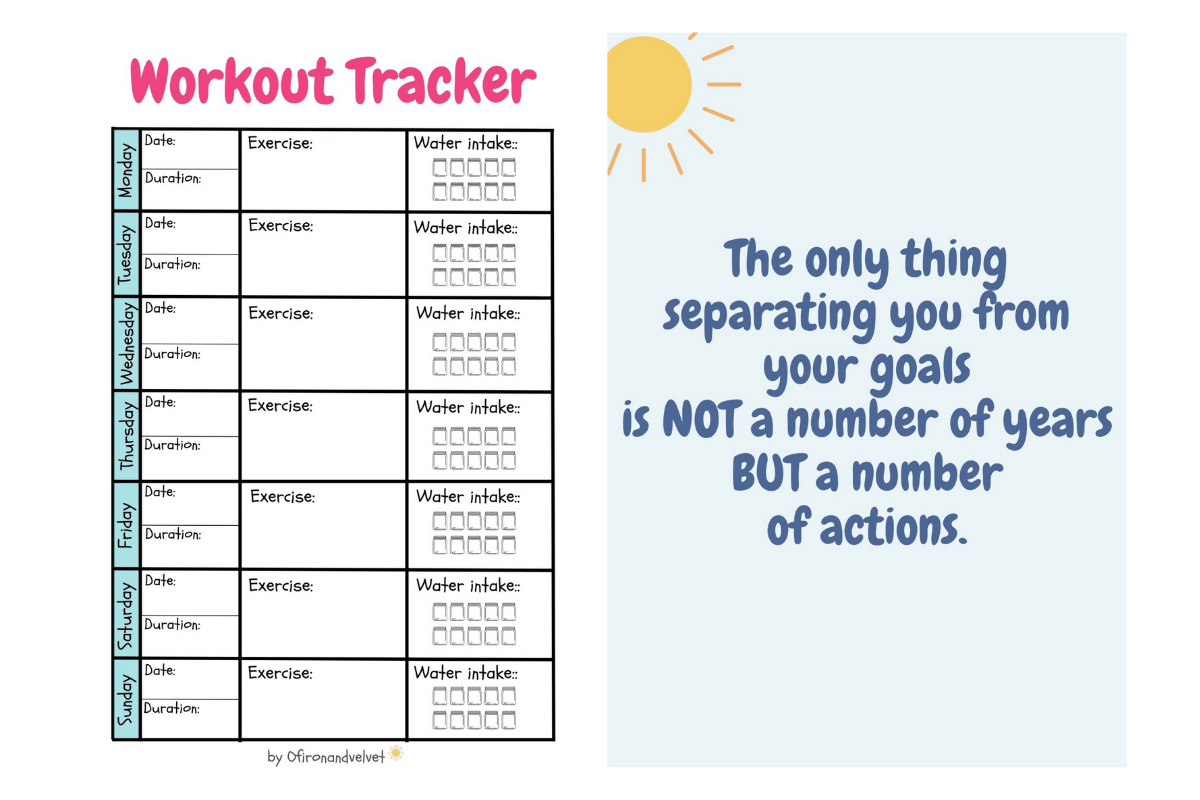 This FREE printable fitness tracker is also fillable directly on your computer, phone or tablet. Or you can print a new one for each week and add the date at the start of each week!
​
​
Your FREE Workout Planner includes:
​
1) one (1) Exercise Tracker Printable and fillable directly on your computer/laptop or phone;
2) one (1) Water Tracker, on the same sheet as your Workout log, for convenience and ease of use;
3) one (1) Inspirational Quote to keep you going!
​
​
After entering your email, you will automatically receive two (2) PDF files with your tracker, delivered straight to your inbox. One file is FILLABLE, and the other one is for PRINTING.
​
Simply print your tracker or download it on your electronic device, and you're ready to go!
​
Don't forget to send me an email to let me know if you find this tracker helpful 😉
​
​
And remember, it's okayy if you forget a day, or two... Or ten!
As the (very wise) proverb goes: Fall down seven times, get up eight".
​
That's how you reach a goal.
​
​
​
P.S. After you sign up and if you haven't received your Tracker, make sure to check your inbox for spams.
​